Alzheimer's medications can help reduce some behavioral problems, such as depression, irritability or agitation. But if these problems are more severe, additional medications are available to treat them. They include antidepressant medications for severe depression, and major tranquilizers for severe agitation or for hallucinations and delusions.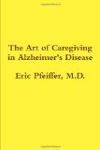 More About this Book
The Art of Caregiving in Alzheimer's Disease
This is an A to Z Guide to the caregiving experience in Alzheimer's disease. It is easy to read, easy to follow. It is authorative, based on thirty years of experieReconce in caring for Alzheimer's...
Continue Learning about Alzheimer's Disease Treatment