A regular PET scan measures the amount of blood flow and glucose metabolism in the brain, with special emphasis on the temporal lobe where memory function occurs. Decreased blood flow and/or glucose metabolism is an early indicator of Alzheimer's disease. A still newer, modified PET scan is now beginning to come into use: amyloid PET scanning. Amyloid plaques in the brain are the most reliable hallmarks of Alzheimer's disease. Amyloid PET scanning measures the amount of amyloid plaques in the brain; the number of amyloid plaques seen, especially in the temporal and the frontal lobes of the brain, are a measure of the likelihood and the severity of the disease.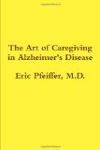 More About this Book
The Art of Caregiving in Alzheimer's Disease
This is an A to Z Guide to the caregiving experience in Alzheimer's disease. It is easy to read, easy to follow. It is authorative, based on thirty years of experieReconce in caring for Alzheimer's...
Continue Learning about Alzheimer's Disease Diagnosis & Tests