While it would be highly desirable to have a definitive lab test for Alzheimer's disease, none exists as yet. There are several lab tests that can contribute valuable information to the diagnostic process, however. But in the end, the diagnosis of Alzheimer's disease is still a clinical process, even though in experienced hands it can be 90-95% accurate, when compared with brain autopsy findings.
There are lab tests that have some usefulness in the diagnostic process. These measure the level of various chemical compounds relevant to Alzheimer's disease, either in the urine, blood or cerebrospinal fluid. Amyloid plaques, made up of clumps of A-beta amyloid protein, and fibrillary tangles, made up of tau proteins, are the most specific findings of Alzheimer's disease in the brain. Tests for levels of these compounds currently form the basis for spinal fluid, blood and urine tests for Alzheimer's disease. Currently, the most sensitive test for Alzheimer's is a spinal fluid test for these chemicals: an elevated level of tau protein and a decreased level of A-beta 42 protein are found in those with established Alzheimer's disease. Such a finding can support a clinical diagnosis of Alzheimer's disease, but by itself is not diagnostic. Tests that measure similar compounds in the blood and urine are also sometimes used to support a clinical diagnosis, but by themselves are not definitive. The majority of experts on Alzheimer's disease feel that such lab tests are at this time used primarily as research tools, and they are not recommended for routine use in making a diagnosis of Alzheimer's disease.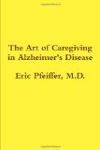 More About this Book
The Art of Caregiving in Alzheimer's Disease
This is an A to Z Guide to the caregiving experience in Alzheimer's disease. It is easy to read, easy to follow. It is authorative, based on thirty years of experieReconce in caring for Alzheimer's...
To exclude the possibility of Alzheimer's disease, blood tests are used to uncover low thyroid, vitamin deficiencies and liver and kidney conditions that can cause memory loss.
Continue Learning about Alzheimer's Disease Diagnosis & Tests