This is a good question. My answer is that the limitation is to recognize that we must not think 'we know it all' when in fact we know just a small percentage of how the body works.

When you think of the intelligence required to create a human being from just two cells.... one that grows to 70 trillion cells, we've still got a lot of learning to do. We must respect the innate intelligence of the body and remember that healing occurs from outside/in and not the other way around.
Elliott Dacher, M.D., in his book Intentional Healing, discusses the limits of modern medicine. He proposes a new model that explores the frontiers of healing made possible through MindBodySpirit medicine. The old model of medicine involves the doctor asking for your symptoms, making a diagnosis and then choosing a treatment (usually a medication, surgical procedure, dietary recommendation or physical therapy) to cure or alleviate your symptoms. In this old model, your "ticket of admission" into the medical system is a symptom that causes you pain and suffering.

The problem with this biomedical model is that it focuses almost exclusively on the symptoms of disease and overlooks the deeper -- and most often hidden -- causes of your symptoms. The deeper causes of your symptoms often arise from the invisible world of thought, feeling, attitude and belief, which lead to unhealthy lifestyles. These lifestyle choices contribute greatly to disease symptoms.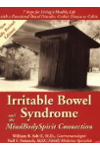 Continue Learning about Alternative Medicine