Energy medicine refers to many forms of therapies, which include practices such as healing touch, Reiki, Qigong, acupuncture, magnet and light therapies and Cymatic therapy that uses sound waves.

It is based on the theory that we are all composed of atoms that are continuously moving and creating energy. When our energy field is injured from an outside influence such as a virus or smoke or pollution we become vulnerable to illness. An internal upset such as stress or grief can also affect our energy field.

Various forms of energy medicine work to facilitate healthy energy flow in our bodies and restore balance and health.

Energy medicine is a broad category of alternative healing methods that utilize universal life force as their primary healing modality. Although some energy medicine is used as an alternative to allopathic, or Western, medicine, most methods are now used as a complement to care given by medical doctors and other traditional treatments. We strongly recommend that you use Pranic Healing only as an adjunct to your physician's care.
In energy medicine, good health results from having the right amount of this energy flowing smoothly through the body, while health problems or ailments result from a deficiency or blockage of this energy. Energy medicine typically includes some method of increasing or stimulating the amount of life force in the body to facilitate healing. Some systems advocate drawing in the energy from a source outside the body; others teach practitioners to build up their own vital force and then use that for healing. Some incorporate self-healing; others do not. Acupuncture, chi kung, Reiki, Therapeutic Touch, and Pranic Healing are just several examples of energy medicine.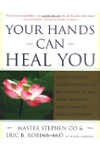 Continue Learning about Alternative Medicine