This technique is a combination of general sweeping of another person's health rays with your preferred visualization technique. Remember, sweeping your health rays is a follow-up or supplement to general scanning rather than a stand-alone technique.
Stand for this exercise and perform your "standard warm-up." Then proceed.
1. Using your preferred visualization method and with your hands slightly cupped and fingers spread, aim your fingers slightly above your visualization of yourself.
2. Imagine beams of white light emanating from your spread fingers and penetrating an inch or two into your visualization. Remember to keep your tongue on the roof of your mouth, and continue with pranic breathing as you sweep.
3. Slowly comb down the center of your visualized body, from the top of the head (crown), through the face, the neck, chest, torso, and genitals, and down the legs to the feet. Remember to comb but do not claw. If you wish, add the visualization that the light beams are raking through the health rays and straightening them, as they comb out dark grayish-brown muddy material.
4. As you comb, be aware of any heavy or sticky feelings your hands detect. Reinforce your intent, and comb through them with a little more force. As you sweep past the feet, pull your hands away and flick them briskly into the salt water.
5. Continue combing your visualization with five strokes down the front and five down the back. For the fifth and final pass down both sides of the body, rake your visualization with arms spread slightly.
6. Rescan your aura, or take a quick energetic baseline measurement. Note if it's more balanced now.
7. Conclude the exercise by shaking your hands and spraying them with alcohol again. Take a few pranic breaths, and relax.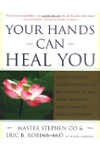 Continue Learning about Alternative Medicine