Perform the following steps to provide the energetic remedy for persistent negative thoughts:
1.Cord-cutting: Visualize out in front of you the incident or the cause of the negative thoughts or emotions, then sever the cord from it at the solar plexus area. Then visualize throwing it into a violet fire.
2.Front solar plexus chakra: Form a firm intent that any negative thoughts and emotions be completely removed. Then sweep with electric violet for at least 5 minutes.
3.Energize with electric violet for about 2 minutes. Stabilize. Inhibit.
4.Repeat step 2 on the back solar plexus, throat, ajna, and crown chakras.
5.(Optional) Perform Meditation on Twin Hearts to rapidly flush out negative thoughts and emotions from the entire aura.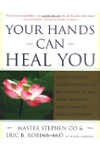 Continue Learning about Alternative Medicine