Your body already heals itself. You may take antibiotics to combat infections, dose yourself with aspirin to reduce pain, get a cast on a broken wrist, or even have your appendix removed by a surgeon, but drugs and medical procedures themselves don't "heal" you. They reduce inflammation, battle bacteria, or in the case of a cast or operation, make proper healing possible. But your body heals itself. And it does it magnificently. Through some process that we don't fully understand, your body has the amazing, innate ability to repair itself.
Medical science can explain the neurological and biochemical responses involved in healing a cut finger: The nerves carry the pain message to your brain to indicate a problem; white blood cells rush to the area to combat dirt or germs; platelets clot the blood and begin forming a scab; and the skin cells grow back underneath the scab. But medical science does not know how the body knows how to do this, and it doesn't know what force powers this healing process.
We know intuitively that there must be a consciousness behind this self-healing ability, one that knows how to work in the same way that our body knows how to breathe without our having to command our lungs to inhale and exhale. We have a storehouse of energy that our body uses for healing. Otherwise, white blood cells wouldn't be able to multiply and carry away infection and inflammation from the site of a cut. Skin cells wouldn't be able to repair and create new tissue. Traditional medical thinking holds that both this healing process and the energy used in it are beyond our willful control. But what if you could consciously control this supposedly unconscious self-healing process? What if you could learn to harness the most vital component in that process, the healing energy that your body uses to repair itself? What if you could learn to increase and direct that healing energy to improve your general well-being and relieve specific health problems?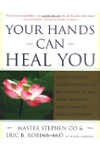 Continue Learning about Alternative Medicine