The length of time needed to treat psoriasis with light therapy depends upon many factors, including the:
Severity
Type of light therapy
Diligence in following the treatment plan
The lesions of psoriasis may involve only a few areas of the body, such as hands, elbows, or scalp. Or there may be widespread areas of skin lesions. The lesions may be thick or thin, large or small.
Ultraviolet B (UVB), ultraviolet A (UVA), or certain lasers may be used to treat psoriasis. Treatment may include substances applied to the skin (such as petroleum jelly or mineral oil), and medications taken by mouth. For example, a drug called psoralen, which makes skin more sensitive to light, is sometimes included with UVA treatment. The ultraviolet light used may be "broad band" or "narrow band" (which uses a smaller range of ultraviolet light).
In general, light treatments involve sessions two or three times per week. Results are usually seen after four to ten treatments. Maximum results are usually seen after about thirty treatments.
Maintenance therapy may be needed after the maximum results are reached. This may require sessions once or twice per week. Laser treatments target smaller areas (specific lesions) and usually require fewer sessions. However, these are only estimates. Different types of psoriasis respond best to certain types of treatment and responses differ.
It is important to see your doctor for an examination of your psoriasis and to determine the best treatment plan for you. Your doctor will estimate how long treatment will take for your psoriasis and for the type of light treatment chosen.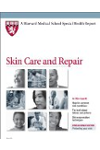 More About this Book
Harvard Medical School Skin Care and Repair
Where can you get authorotative advice on skin care? There's plenty of advice out there on TV, the internet and in the aisles of stores peddling skin care products. Despite the abundance of products...
Continue Learning about Alternative Medicine