Heat therapy is the use of heat, in the form of hot compresses, heat lamps, or heating pads, to cause blood vessels to dilate and increase blood flow to the injury site. Increased blood flow aids the healing process. Also called thermotherapy.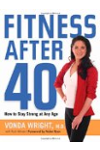 More About this Book
Fitness After 40: How to Stay Strong at Any Age
It's one of the undeniable facts of life. After we reach a certain age, our bodies change. No matter how fit we may have been at 20, we're very different people after 40. But growing older doesn't...
Continue Learning about Alternative Medicine