Taking these steps will help you find a complementary and alternative medicine(CAM) practitioner who is reputable, and avoid some other pitfalls that can occur when patients try alternative therapies without becoming educated first.
Ask your doctor if he or she will collaborate with an alternative therapy provider, and ask for referrals.
Dial the insurance company. Some CAMs are covered, and others are for your wallet to bear alone. Likewise with different CAM practitioners. Find out your insurer's specifics.
Ruthlessly check credentials. Find out how many years the CAM provider has been practicing, and call your state's professional, licensing, or occupational regulation offices to see if they're properly licensed or have any nasty happenstances in their history. For unlicensed fields, such as aromatherapy and biofeedback, you'll have to rely on a trustworthy referral and your gut instincts.
Make sure the CAM practitioner is open to conventional medicine and will work with your doctor's therapy (and doesn't insist on being the alternative to your doctor's therapy). If the practitioner scoffs at conventional medicine, I'd run out of there. But that's me.
Research the therapy before you visit the practitioner. Scam CAM providers love uninformed patients. Two great sources are the National Center for Complementary and Alternative Medicine Web site at http://nccam.nih.gov and the National Library of Medicine's Directory of Information Resources Online at http://dirline.nlm.nih.gov; the latter allows you to search a database of thousands of alternative medicine organizations.
Find out when you can stop the therapy. Never is a bad answer; that can mean that they're hoping you'll not only be their patient, but an ATM. Some ailments will require ongoing treatment, but check the validity of the claim with your doctor.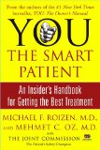 Continue Learning about Alternative Medicine