Cold therapy is the use of ice packs to reduce inflammation by constricting blood vessels and limiting blood flow to the injured tissues; this eases pain by numbing the injured area. It is generally used for only the first 48 hours after injury. Also called cryotherapy.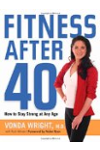 More About this Book
Fitness After 40: How to Stay Strong at Any Age
It's one of the undeniable facts of life. After we reach a certain age, our bodies change. No matter how fit we may have been at 20, we're very different people after 40. But growing older doesn't...
Continue Learning about Alternative Medicine