If you see someone having an allergic reaction:
Do not pick up animals that can bite or sting.
Do not rub or squeeze irritated area.
Do not apply a tourniquet.
Do not squeeze out a stinger.
Do not harass or tease any animals.
Do not elevate body part that has been bitten or stung.
Do not stop person from taking own medication for allergic reaction.
Do not give the victim anything by mouth other than their allergy medication.
Do not make a victim vomit after eating food that he or she is allergic to.
If reaction is severe, get medical help immediately.
Identify the allergen.
Help the victim administer own medication for allergic reaction.
Monitor for responsiveness and breathing.
Monitor and treat for shock if present.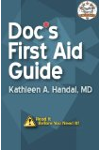 More About this Book
Doc's First Aid Guide: Read It Before You Need It
In a medical emergency, time is of the essence. "Doc's First Aid Guide" is an illustrated, first-aid pocket handbook designed to be used as a quick reference and includes the latest CPR guidelines....
Continue Learning about Allergies Treatments