The first step to working with your doctor is to be sure he or she has all the information needed to treat your allergies effectively. Use these seven strategies before, during and after all your doctor visits:
Keep a detailed journal of your symptoms and share the information with your doctor.
Prepare a written list of questions before each doctor's appointment.
Learn everything you can about the different kinds of allergy medications and their side effects, including antihistamines, decongestants, saline drops and corticosteroid nasal sprays.
Tell your doctor which medications you currently take (and have taken in the past) and how well they work. Report any side effects, and include in your discussion the doses and time of day you take your meds.
Be honest if you're inconsistent about taking your meds, or if you frequently switch from one allergy medication to another. Ask your doctor how long you should stick to a particular treatment before deciding it is—or isn't—working for you.
Ask about other treatments, such as immunotherapy (allergy shots), trigger-avoidance strategies, alternative therapies and self-care techniques.
Also ask whether you need allergy testing (or retesting) to more accurately pinpoint your triggers and to help your doctor determine the appropriate medication.
Once your doctor tailors a new regimen for you, follow it to the letter and maintain your symptom diary. If after a time the new plan isn't working, ask your doctor to adjust it again. It may take a bit of trial and error before you find the right combination of medication, self-care and trigger-avoidance strategies to fully relieve your allergy symptoms.
An allergist is a board-certified allergy/immunology specialist who goes through a full internal medicine or pediatric residency (three years), plus an additional two years dedicated only to the study of allergy/immunology based problems. Allergists are the right choice for the following situations:
You want the full range of medication options for treatment.
You want access to all types of immunotherapy and want to use the nationally standardized immunotherapy protocols.
You are unsure if you have an allergy and are curious to know your options.
You do not want surgery or want to look at other options before surgery.
You have questions about asthma, about food allergy (or food allergy versus food intolerance), eczema, cough, medication allergy or insect allergies.
An ear, nose and throat specialist (ENT) is trained as a head and neck surgeon. ENTs are the right choice in the following situations:
You need a sinus surgery (or any other head/neck surgery).
You need help with structural problems, including narrow passages or a broken nose.
Medication is not helping your symptoms and a surgical option is possible.
Overall, remember that a good allergist should refer to an ENT if appropriate and a good ENT should refer to an allergist if appropriate.
The first major advantage allergists such as ourselves offer is that we are up on the latest medications targeted at specific conditions. We read the literature on trials, we go to the meetings where these drugs are presented, and we talk with the people at the companies that produce them.
So chances are we have the latest weapons in our arsenal, whereas a busy GP, who has to keep up with developments in a broad array of specialties, won't.
Second of all, because we know the strengths and weaknesses of the full allergy pharmacopoeia, we recognize that there are certain trailing-edge medications that still have their uses for limited purposes.
Another advantage of the allergist's approach to using medications is that we are aware of the chemistry behind a particular medicine and thus might use it in ways that are not enumerated in the Physicians' Desk Reference (PDR) or on the literature from the manufacturer.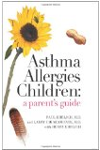 More About this Book
Asthma Allergies Children: A Parent's Guide
Asthma and allergies are at epidemic proportions. It doesn't have to be that way. Two experienced pediatric allergists tell everything a conscientious parent needs to know about these conditions,...
Continue Learning about Allergies Treatments