Science shows us that skin tests and blood tests for allergies don't really measure the same things. The antibodies that register in a blood test have a half-life of two days. They come and go without putting your immune system on a state of red alert. The ones that react in the skin have a half-life of six to eight weeks, which means that your body is ready to strike for a protracted period.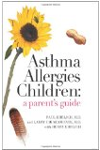 More About this Book
Asthma Allergies Children: A Parent's Guide
Asthma and allergies are at epidemic proportions. It doesn't have to be that way. Two experienced pediatric allergists tell everything a conscientious parent needs to know about these conditions,...
Continue Learning about Allergies Diagnosis