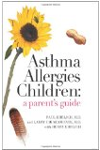 When I was training, I had a mentor named Alan Pearlman who told me, "I never test for allergies." I thought he was crazy. Well, if he was, then I am almost crazy, because I test less and less.

As you develop clinical experience, you find that a good history is much more important than any lab report. Sometimes I will test to confirm what I already suspect.

Patients and parents of patients don't always like this. They will say, "If you don't test, what am I paying you for?" I tell them, "You are paying me to use all my experience to make you (or your child) better."