Allergies seem to be becoming more common. Part of this is due to changes in the way we live. We live in homes that are sealed to trap heat in the winter and cool conditioned air in the summer. We have wall-to-wall carpeting and throw rugs on our floors. But this comfortable and energy-conscious approach creates an environment in which dust mites thrive. Energy efficiency means that there is less fresh air from outside being exchanged with stale air indoors, which means that dust builds up inside. Carpeting may be comfortable to walk on, insulating and attractive, but stuff that settles in it is fodder for dust mites, and their waste is highly allergenic.
In a sense, allergy is a price we have paid for progress. Part of the body's defenses, the immune system, evolved to help us fight off parasites when our ancestors had very little ability to influence either their environment or their diet. Now that we do have such power, that mechanism has gone haywire.
Because of modern sanitation, climate control and immunization, many of the original problems the immune system evolved to combat no longer exist routinely in advanced industrial countries like ours. However, the defenses are still within us. Like soldiers demobilized at the end of a war, they need time to adjust after the fighting stops, but in the case of immunity that has evolved over eons, the adjustment hasn't begun. Idle hands make the devil's work. These are defenses in search of an enemy, and they spend their time attacking all kinds of things—molds, pollens, chemicals used in the construction of our homes—and in the process of attacking those irritants, they throw off toxins that make us sick.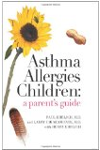 More About this Book
Asthma Allergies Children: A Parent's Guide
Asthma and allergies are at epidemic proportions. It doesn't have to be that way. Two experienced pediatric allergists tell everything a conscientious parent needs to know about these conditions,...
One prevailing theory about allergy development stems from a biochemical reaction that occurs when our antibodies react to invaders. B cells shoot invaders with bullets called immunoglobulins, or antibodies, and they're specifically designed to target particular threats. In addition to shooting antibodies, B cells also wear them on their surface. The surface antibodies associated with allergies (called IgE antibodies) stick to B cells like green on peas, supercharging them to fight invaders that may not be particularly dangerous. Like Fluffy. How did we end up with this overzealous class of antibodies? Some immunologists believe that way back in the day, a high-octane disease or infection appeared, and those of our ancestors who had IgE were able to survive it because of their powerful immune response. Those IgE antibodies have been with us ever since. The downside is that they can now react strongly to nonlethal stimuli, and that's what causes an allergic reaction.
Continue Learning about Allergies Causes & Risk Factors