The mast cell, a type of immune system cell, is present in all tissue in greater or lesser concentrations. Upon initial exposure to an allergen, or antigen (remember that you don't become allergic the first time you encounter these substances), antibodies attach themselves by the thousands to the receptors of the mast cell. The "claws" of the IgE antibodies stick out, and work in pairs. They look something like lobster claws. The allergens fit between the "claws," forming a bridge, and when they do, the allergic attack begins. The mast cell swells up and bursts and mediators are released.

Without medical intervention, the mast cell uses all the weapons in its arsenal, and alerts other cells, such as eosinophils, to show up and do their work. It's as if a home burglar alarm went off and the police responded without stopping to figure out whether the cat tripped the alarm or Public Enemy Number One was holed up inside. The police might show up and burst in the front door, or they might break it down, or they might enter with tear gas and guns blazing.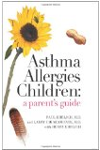 More About this Book
Asthma Allergies Children: A Parent's Guide
Asthma and allergies are at epidemic proportions. It doesn't have to be that way. Two experienced pediatric allergists tell everything a conscientious parent needs to know about these conditions,...
Continue Learning about Allergies Causes & Risk Factors