Allergens responsible for allergy vary from residence to residence and from region to region. For example, cockroaches are a very important cause of asthma among inner-city populations, while in the mountain states, cats and dogs cause more allergy. Molds have been reported to be the dominant asthma-related allergens both in the humid Pacific Northwest, and in dry areas like Arizona where they grow in the water of cooling systems. One thing all these allergies have in common is the discomfort and misery they cause.
The four major indoor allergens in the United States are dust mites, cockroaches, pet dander, and mold spores. In vermin-infested homes, mouse and rat allergens may be involved. Pollen and mold spores are the major outdoor allergens responsible for seasonal asthma.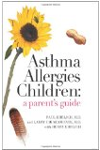 More About this Book
Asthma Allergies Children: A Parent's Guide
Asthma and allergies are at epidemic proportions. It doesn't have to be that way. Two experienced pediatric allergists tell everything a conscientious parent needs to know about these conditions,...
Tree pollen is a common environmental trigger of allergies, but there are lots of others, says allergy specialist Dr. Clifford Bassett. To find out about other common triggers, watch this video.
Continue Learning about Allergies Causes & Risk Factors