Allergic reactions are caused by overactivity of the immune system against specific foreign substances called antigens. Reactions can be mild, such as rashes, to a severe, life-threatening condition called anaphylaxis (anaphylactic shock).
Common antigens that often cause allergic reactions in at-risk people include:
Bee or insect venom
Antibiotics
Pollen
Animal dander
Latex
Sulfa drugs
Certain foods, such as tree nuts, peanuts, shellfish, strawberries, and coconut oil
Many agents - including foods, venom, drugs, chemicals, and other substances - can cause allergic reactions that range from mild to severe and life-threatening. The progressive reaction can appear within minutes of exposure or may show up hours later. The more serious reactions usually develop within minutes of the victim's exposure to the allergen. Many who know they have severe allergies carry a prescribed epinephrine autoinjector to counter the reaction.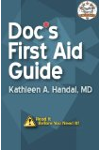 More About this Book
Doc's First Aid Guide: Read It Before You Need It
In a medical emergency, time is of the essence. "Doc's First Aid Guide" is an illustrated, first-aid pocket handbook designed to be used as a quick reference and includes the latest CPR guidelines....
Continue Learning about Allergies Causes & Risk Factors