Indoor air often contains irritating substances that irritate allergies. Secondhand tobacco smoke is probably the most common. Others include chemical fumes from paint, insecticides, smoke from wood stoves, fumes from scented candles and even perfume. Gas stoves give off nitrogen dioxide, a known respiratory irritant. Asthmatics in poorly ventilated homes will experience more symptoms when such stoves are used, especially if they are used as an extra source of heating during the winter.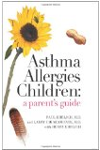 More About this Book
Asthma Allergies Children: A Parent's Guide
Asthma and allergies are at epidemic proportions. It doesn't have to be that way. Two experienced pediatric allergists tell everything a conscientious parent needs to know about these conditions,...
Many of us don't realize that we spend about one-third of each day at home (except less for workaholics) and during this time we are exposed to potential indoor allergens. The most common causes of indoor or year-round allergies include house dust, dust mites, pet dander, feather bedding, mold spores and cockroach allergens.
Continue Learning about Allergies Causes & Risk Factors