Antigens that cause an allergic reaction are called allergens. Some common allergens include bee or insect venom, certain antibiotics, pollen, animal dander, and sulfa drugs.

Allergens are usually made of proteins from such living things as the skin of animals, referred to as dander, dust, tiny insect parts, mold spores, and pollen. Some of these are perennial, around all the time, and some are seasonal, around only at certain parts of the year. For example, ragweed pollen, a major allergen, is only around in the late summer when the ragweed itself is flowering (although the season is longer in the South than in Northern states), and the air echoes with the sound of sneezing.
Newly mown grass is highly allergenic, so anyone who wants to instill a sense of responsibility in their children by assigning regular chores should try to find another task for kids with allergies.
Cleaning the basement is probably not a good one either because of dust and molds.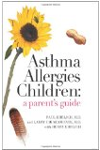 More About this Book
Asthma Allergies Children: A Parent's Guide
Asthma and allergies are at epidemic proportions. It doesn't have to be that way. Two experienced pediatric allergists tell everything a conscientious parent needs to know about these conditions,...
Allergens are substances that cause an allergic response. Examples include pollen, molds, and certain foods.
This answer is based on source information from the National Cancer Institute.
Continue Learning about Allergies Causes & Risk Factors