Many allergens can be found in the school environment, for instance, right after school begins, when kindergartners and first graders pull out their mats and rugs at quiet time, we see a spate of dust-induced asthma and rhinitis. Guinea pigs and white mice are a soothing and educational addition to elementary classrooms, but they are also full of allergens.

When leaves start falling, mold spores begin to increase both indoors and out. At this time of year, air-temperature inversions -- warm air on top of cold -- occur both inside and out. This decreases the vertical mixing of air, and contaminants build up as a result.

The start of heating season is always busy in our offices. This is when custodians fire up the furnaces and all that dust and mouse droppings are swept from the heating ducts into the classroom.

On top of these seasonal events, schools remain an allergen supermarket: Chalk, pollens, pesticides, laboratory chemicals, sanitation supplies, perfumes, rodents, and cockroaches all make schools a 7- to 10-hour-a-day, year-round threat.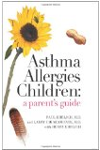 More About this Book
Asthma Allergies Children: A Parent's Guide
Asthma and allergies are at epidemic proportions. It doesn't have to be that way. Two experienced pediatric allergists tell everything a conscientious parent needs to know about these conditions,...
Continue Learning about Allergies Causes & Risk Factors