This depends on the type of job you do. If you are employed in area around chemicals or outside, you can have an allergic response to environmental stimuli. Pollens, molds and insects are just a few things outside that can trigger allergic symptoms.
Antihistamine can be taken on a daily basis to cut down on allergic symptoms, especially during certain times of the year. It is important to remember that allergies do not usually cause fever, symptoms lasting longer than one week, or unresponsive to antihistamines. If you exhibit these symptoms, you should make an appointment with your healthcare provider.
Sick of work? Many of us joke that we are. But some people literally become sick at their workplace, suffering from a condition called "sick building syndrome."
Why does this happen? Well, in an effort to cut costs and be eco-friendly through energy conservation, modern office buildings are built as tight as tombs, quite often with inadequate fresh air circulation. Therefore, allergens and irritants fill the air but have no place to go once they get in. Carpet-cleaning solvents leave irritating chemical residues. Particles in the air, like fiberglass, bother the eyes. Mold spores, freely circulating in moist, continually running air-conditioning units, irritate sensitive noses. And, if your co-workers have pets at their home, there might even be some animal dander floating freely in the atmosphere.
Enclosed office spaces aren't the only workplaces that are susceptible to all sorts of environmental problems. Many professionals and trades people, because of the various chemicals and other materials that they work with, are also prone to environmental allergies, whether they work indoors or out.
Professions susceptible to allergy include the following:
Industrial workers who are handling paints, chemicals, plastics and solvents
Beauticians, who work with hair dyes, hair perms, nail polish and nail polish removers
Farm workers who are dealing with fertilizers and pesticides
Photocopier technicians who're working in enclosed offices with machines and with papers that emit potentially harmful gases
Medical professionals, who can become sensitized to latex (in medical gloves)
Bakers, who may suffer from flour or wheat allergies, dubbed "baker's rhinitis"
Occupational allergens include a wide range of airborne substances that can cause allergies and asthma. These include such things as laboratory animal dander, grain and flour dust that affect bakers and agricultural workers, other foodstuffs such as coffee bean dust, dust from woods such as mahogany or western red cedar, and chemicals like platinum or toluene diisocyanate that affect people who spray paint. Substances like psyllium, which is found in laxatives like Metamucil, can cause asthma in those who handle large amounts of the powder, such as nurses and pharmacists.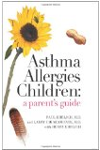 More About this Book
Asthma Allergies Children: A Parent's Guide
Asthma and allergies are at epidemic proportions. It doesn't have to be that way. Two experienced pediatric allergists tell everything a conscientious parent needs to know about these conditions,...
Continue Learning about Allergies Causes & Risk Factors