Allergies often run in families.Watch this video to learn what you can do to minimize allergies in your baby.
Allergies can often be blamed on dad and mom. The tendency to become allergic is an inherited one. The chances that you'll be allergic go up from about 50 percent when one parent is allergic to about 75 percent to 80 percent when both of your parents have allergies.
The American College of Allergy, Asthma and Immunology has issued estimates that as many as 50 million Americans suffer with hay fever, asthma, or other allergy-related conditions.
In short, your family genes are stacked against you. Now, does this mean instant sniffles and sinus pain? Not always. Don't forget, even if you do have a 60 percent chance to develop allergies, that means you also have a 40 percent chance of not developing them. That's why Spike turns your eyes and nose into streams while your sister is pretty much dry. In the roll of genetic dice, she came out the winner.
The earliest indicators of allergy begin before a child is born. In fact, they begin before conception. One allergic parent creates a high probability of passing on susceptibility. With two, it's very high. Genetic research is only confirming what we have long observed, although it is revealing information that may someday lead to very precise therapy.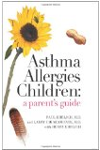 More About this Book
Asthma Allergies Children: A Parent's Guide
Asthma and allergies are at epidemic proportions. It doesn't have to be that way. Two experienced pediatric allergists tell everything a conscientious parent needs to know about these conditions,...
Wondering if you'll pass along your seasonal sniffles and sneezing to your kids? In this video, allergy specialist Dr. Clifford Bassett explains how having a parent (or parents) with allergies can up a child's risk of having them as well.
Continue Learning about Allergies Causes & Risk Factors