For those who have been using alcohol or a combination of alcohol and other drugs heavily or for a long time, it is best to have supervision and support from health care providers when withdrawing. You need help to relieve withdrawal symptoms and to reestablish sleep patterns, as well as to get treatment for a range of medical problems. A hospital or recovery center is the best place to get this help. Women with human immunodeficiency virus (HIV) or those who are going through withdrawal from specific drugs, such as opiates and tranquilizers, may need further specialized care. Withdrawal symptoms are temporary; they subside once the body gets used to the absence of the substance, though the desire for the substance may last a long time.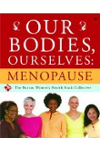 More About this Book
Our Bodies, Ourselves: Menopause
FROM THE EDITORS OF THE CLASSIC "BIBLE OF WOMEN'S HEALTH," A TRUSTWORTHY, UP-TO-DATE GUIDE TO HELP EVERY WOMAN NAVIGATE THE MENOPAUSE TRANSITION For decades, millions of women have relied on Our...
Continue Learning about Alcoholism