The short-term effects of alcohol can be pleasurable, but heavy use and abuse can have a devastating effect on your body:
Alcohol can diminish motor coordination, judgment, emotional control, and reasoning power, increasing your risk of accidents and injuries and your vulnerability to violence.
Chronic, heavy drinking can contribute to a wide range of reproductive disorders, including irregular menstrual cycles and early menopause.
Even average levels of drinking can increase the risk of mouth, esophageal, and liver cancer; major depression; epilepsy; hemorrhagic stroke; cirrhosis of the liver; and other diseases.
Women develop alcohol-related liver disease after a comparatively shorter period of heavy drinking than do men. Other alcohol-related health risks that are higher for women include hypertension (high blood pressure), particularly for African-American women, and an increased risk of osteoporosis (thinning of bones), gastric ulcers, and alcoholic hepatitis.
Some studies have linked alcohol use with increased risk for breast cancer. Postmenopausal women using hormone treatment, which is a known risk factor for breast cancer, and drinking even moderate amounts of alcohol have a higher risk of developing the disease than nondrinkers who take hormone treatment.
With age, and cumulative alcohol and other drug use, your body has more difficulty processing mood-altering substances, increasing the risk of harmful interactions and drug tolerance.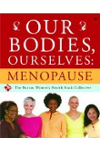 More About this Book
Our Bodies, Ourselves: Menopause
FROM THE EDITORS OF THE CLASSIC "BIBLE OF WOMEN'S HEALTH," A TRUSTWORTHY, UP-TO-DATE GUIDE TO HELP EVERY WOMAN NAVIGATE THE MENOPAUSE TRANSITION For decades, millions of women have relied on Our...
Continue Learning about Alcoholism