Alcohol is a big source of calories. A bottle of beer has 150 calories. A glass of wine contains 100 calories. 1 shot of alcohol (1.5 ounces) can jump from 85 to 130 depending on the proof. Mixed drinks are even higher in calories. A gin and tonic has 171. A vodka martini has 210. A cosmopolitan contains 213. And a pina colada tips the scale at 262. Just as you count the calories of the food you eat, your alcohol intake needs to be included as well.
A Long Island Iced Tea—which contains equal parts vodka, tequila, rum, gin, and triple sec, 1½ parts sweet-and-sour mix, and a splash of Coke—packs almost 800 calories! A Piña Colada (3 ounces light rum and 3 tablespoons each of milk and crushed pineapple) packs almost 700 calories, while a White Russian (2 ounces vodka and 1.5 ounces each of coffee liqueur and heavy cream) weighs in at 425 calories. The choice is yours: Downsize the calories in your cocktail or upsize your clothing.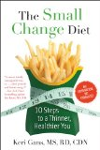 Summer provides many opportunities to enjoy our favorite cocktails. However, if you're counting calories at summer barbeques and festivals, remember to include alcoholic drinks in your calculations. You may be surprised by how many calories are in an average drink.
Beer: regular, 12 oz. = 150-200 calories
Beer: light, 12 oz. = 100-130 calories
Wine: dry, 5 oz. = 100-110 calories
Wine cooler: 12 oz. = 180-200 calories
Distilled spirits (80-proof): 1 1/2 oz = 100 calories
Cordial or liqueur: 1 1/2 oz = 160 calories
And remember that juices, sodas and mixers add even more calories to your cocktails. To cut down on the number of calories you drink this summer, drink slowly and drink less. Dilute beverages with ice or fresh juices. And remember the Dietary Guidelines recommend up to one drink per day for women and up to two drinks a day for men.
Continue Learning about Alcohol and Weight Loss