It probably has to do with substances called flavonoids. Alcohol clearly in moderation has been shown to increase the good cholesterol or the HDL, decrease the stickiness of the blood platelets -- little substances in the blood that promote clotting -- and clotting is at the root of heart attacks and strokes. Alcohol also appears to decrease blood vessel inflammation. It is a powerful antioxidant and may dilate the blood vessels.
Who says a healthy diet is no fun? Wine is a key component of the Mediterranean diet, and sipping two drinks a day (no more!) can make your RealAge up to 7.7 years younger. That's because alcohol -- wine, beer, or hard liquor -- can benefit your heart and your head by lowering the risk of dementia and heart disease. If red wine is your drink of choice, here's another reason to raise a glass: It boosts helpful HDL cholesterol and may even cut men's risk of prostate cancer in half.

We toast to good health for good reason. Moderate drinking has been associated with reduced risk for heart disease and death from all causes. Alcohol of any kind increases high density lipoprotein (HDL) cholesterol, improves insulin sensitivity, and reduces inflammation. Wine in particular contains small amounts of plant substances called flavonoids that have demonstrated anti-inflammatory and anticancer activity in laboratory experiments.
Continue Learning about Alcohol & Health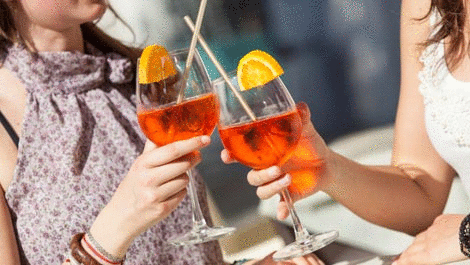 Drinking moderate amounts of alcohol daily, such as two 12-ounce beers or two 5-ounce glasses of wine, offers some health benefits, especially for the heart. It can reduce your risk of developing heart disease and peripheral vascu...
lar disease, lowers your risk of developing gallstones, and possibly reduces your risk of stroke and diabetes. Anything more than moderate drinking can lead to serious health problems, however, including strokes; pancreatitis; cancer of the liver, pancreas, mouth, larynx or esophagus; heart-muscle damage; high blood pressure; and cirrhosis of the liver.
More