The liver is the principle site of metabolism of alcohol and as such remains at the highest risk of damage -- and aging -- from alcohol use. Liver scarring from use of alcohol (cirrhosis) can cause considerable aging. In some urban areas, it's the fourth leading cause of death for individuals twenty-five to sixty-four years of age. Cirrhosis of the liver (alcoholic hepatitis) can cause a person to age even faster than many types of cancers. Because cirrhosis of the liver causes irreversible structural damage, there are few treatment options for the disease once it reaches an advanced stage. Damage to the liver also appears related to a higher risk of cancer.
Continue Learning about Alcohol & Health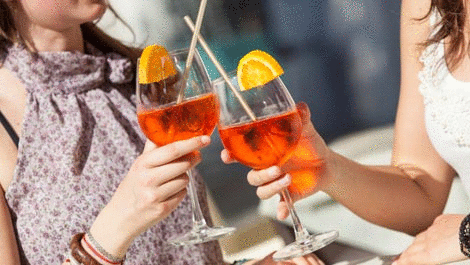 Drinking moderate amounts of alcohol daily, such as two 12-ounce beers or two 5-ounce glasses of wine, offers some health benefits, especially for the heart. It can reduce your risk of developing heart disease and peripheral vascu...
lar disease, lowers your risk of developing gallstones, and possibly reduces your risk of stroke and diabetes. Anything more than moderate drinking can lead to serious health problems, however, including strokes; pancreatitis; cancer of the liver, pancreas, mouth, larynx or esophagus; heart-muscle damage; high blood pressure; and cirrhosis of the liver.
More