Alcohol is notorious for leading people to overeat because of its physiological effect on appetite and because it is generally consumed in a social setting where food is plentiful. There is no place to store alcohol in our bodies the way we do food; therefore the body must preferentially use incoming alcohol as its energy source in order to keep it from reaching toxic levels. This gives alcohol its natural ability to stimulate appetite by depleting your glycogen (carbohydrate) stores in order to metabolize it, causing you to begin to crave carbohydrates. Alcohol also acts like a diuretic, increasing urination thus decreasing electrolytes like sodium. Again, we now begin to crave the things we are losing, hence our desire for salty carbohydrate-like foods (e.g. chips, dips, crackers, etc.). When you combine alcohol's natural effects on appetite with its well known un-inhibiting effects at a destination full of palatable foods, you have hungry people who often end up with no cares about what and how much food they consume.
It is always a good idea to try and limit your alcohol consumption because it can increase your appetite and lower your resolve to stay in control of your healthy eating goals. A good guide for alcohol consumption is either one glass of wine, 12 ounces of beer or 1 1/2 ounces of hard liquor. Women should have one serving while men can have 2 servings. Remember that mixed drinks can often be high in calories because of the ingredients the alcohol is mixed with.

Continue Learning about Alcohol & Health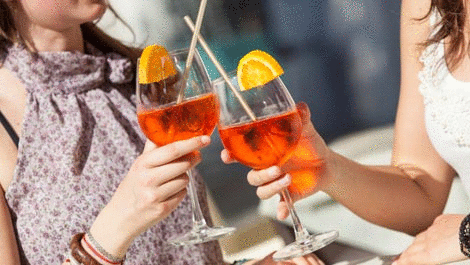 Drinking moderate amounts of alcohol daily, such as two 12-ounce beers or two 5-ounce glasses of wine, offers some health benefits, especially for the heart. It can reduce your risk of developing heart disease and peripheral vascu...
lar disease, lowers your risk of developing gallstones, and possibly reduces your risk of stroke and diabetes. Anything more than moderate drinking can lead to serious health problems, however, including strokes; pancreatitis; cancer of the liver, pancreas, mouth, larynx or esophagus; heart-muscle damage; high blood pressure; and cirrhosis of the liver.
More