According to Drs. Dipak Das and Alberto Bertelli of Connecticut and Milan respectively, white wine derives its cardio-boosting effects from two antioxidants -- tyrosol and hydroxytyrosol -- which are also found in olive oil. Interestingly, these antioxidants, such as resveratrol, trigger a gene that may slow aging, and have benefits for diabetes prevention and kidney function.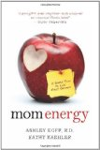 More About this Book
Mom Energy: A Simple Plan to Live Fully Charged
       From celebrated dietitian Ashley Koff and fitness trainer to the stars Kathy Kaehler comes Mom Energy, an exciting new way for moms to tap into their own natural and renewable sources of...
White wine, like any alcohol, has its impact on health. White wine has many of the same health benefits attributed to red wine, it just gets it done with different substances. Moderate consumption of any alcohol has potential positive impacts on health. Benefits of moderate alcohol consumption include the following:
Reduces your risk of developing heart disease
Reduces your risk of dying of a heart attack
Possibly reduces your risk of strokes, particularly ischemic strokes
Lowers your risk of gallstones
Possibly reduces your risk of diabetes
Moderate alcohol consumption is considered to be one drink/day for women and up to two drinks/day for men. All health care professionals will caution that if you do not drink, do not start as the risks associated with excess alcohol consumption outweigh the benefits.
In 1991, Dr. Serge Reynaud published a paper in the Lancet on a concept now widely known as The French Paradox. Dr. Reynaud noted that despite consuming diets fairly high in fat, the French have a lower than expected rate of heart disease. He attributed the lower rates of disease to the high consumption of wine -- including white wine.

In 2004, the INTERHeart study identified nine risk factors that account for 90% of all heart attacks. Among them, moderate consumption of alcohol. The study authors found that consuming 7-14 servings of alcohol per week (closer to seven for women, closer to 14 for men) was protective against heart attacks. The effects were not related to the type of alcohol consumed.

The impact of alcohol consumption on health has been studied extensively, and we now know that all foms of alcohol, when consumed in moderation, can prevent a number of diseases.

But just because alcohol may be good for your health is not an excuse to overindulge and drink irresponsibly: no matter how effective alcohol may be at preventing disease, there's no antidote for someone who dies at the hands of an impaired driver.
Continue Learning about Alcohol & Health