Most schools are poorly ventilated. Schools from the '70s were built to have low energy loss -- an admirable goal itself. However, a certain amount of air circulation is required for people in a building, and a percentage of this should be fresh air from outside; some of these building went overboard trying to conserve energy and thus do not meet these standards. A study of radon in schools by the Government Accountability Office (then known as the General Accounting Office) found that over half of those surveyed had poor ventilation, which traps allergens.

If there is any dampness in a building like this, a toxic mold called Stachybotrys chartium may grow. One school in Connecticut was so moldy that it had to be torn down.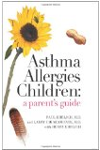 More About this Book
Asthma Allergies Children: A Parent's Guide
Asthma and allergies are at epidemic proportions. It doesn't have to be that way. Two experienced pediatric allergists tell everything a conscientious parent needs to know about these conditions,...
Continue Learning about Air Quality
We hear about air quality from many sources, from the weather report to vacuum cleaner commercials. The air we breathe can carry many tiny particles that will affect your health, especially if you are an allergy sufferer. Common c...
ontaminants in the air include dust, pollen, and smoke. Air in well-insulated houses can concentrate not only these contaminants but fumes and vapors from household chemicals like chlorine bleach and cleaners. Getting enough fresh air where you live may be as simple as opening a window or as complex as filtering and ensuring proper humidity in an apartment or office HVAC (heating, ventilating and air conditioning) system. Use of smoke removers and air filters (either electrostatic or HEPA) may improve indoor air quality.
More