Vision loss can be hard to define. Between the extremes of total blindness and binocular vision, there's a whole stream of different ways that our sight may be compromised. As we age, we tend to have trouble with visual-processing speed, light sensitivity, and decreasing field of vision. But vision isn't just about sight; it's about neurological functioning as well. We may be able to see objects, but we have a harder time pulling everything together.

Big example: driving. You can see everything in isolation (pedestrians crossing, light changing, hey, Starbucks on the corner!), but as you age you have a harder time actually focusing on what's important. Add that to the fact that older people have a harder time seeing through dim lights and recovering from bright lights (like oncoming traffic), and you've got the perfect storm of visual problems.

You're having trouble making out what you're seeing, but even if you make it out, you can't process it fast enough to realize that the pedestrian, not the venti mocha latte, is what you need to pay attention to.

Because it's harder to judge an oncoming moving object as you age, and because left-hand turns account for the biggest incidence of car accidents, I often tell older patients that three right turns really do make a left.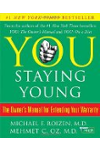 Continue Learning about Aging & Increased Health Risks