As an individual ages, the small blood vessels that work with the cochlea and produce endolmyph are reduced. This reduction of the rate by which endolymph is produced greatly reduces the ability of vibrations to pass through the cochlea, thus reducing the ability of an individual to hear sound. Essentially, hearing loss happens as the brain receives fewer impulses from the cochlea.
Those who grow up listening to loud music or who are exposed to loud sounds on the job may find their hearing failing. Cells and nerves in the inner ear are destroyed by continuous or repeated exposure to loud noises.
Hearing loss is rarely painful. The symptoms are usually vague feelings of pressure or fullness in the ears, speech that seems to be muffled or far away, and a ringing sound in the ears that you notice when you are in quiet places. The first sign of a noise-induced hearing loss is failing to hear high-pitched sounds.
To prevent hearing loss, reduce your exposure to loud sounds as much as possible. Develop the habit of wearing earplugs when you know you will be exposed to noise for a long time. Keep television sets, stereos, and headsets low in volume. If you are regularly exposed to loud noise at work or play, you are at risk for hearing loss and should have your hearing tested every year.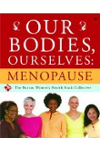 More About this Book
Our Bodies, Ourselves: Menopause
FROM THE EDITORS OF THE CLASSIC "BIBLE OF WOMEN'S HEALTH," A TRUSTWORTHY, UP-TO-DATE GUIDE TO HELP EVERY WOMAN NAVIGATE THE MENOPAUSE TRANSITION For decades, millions of women have relied on Our...
Much like wrinkles, hearing loss is often associated with aging. In this video, audiologist Dr. Craig Kasper talks about whether hearing loss is really inevitable.
Continue Learning about Aging & Increased Health Risks