Skeletal muscles are important for support, movement and heat production. There are some normal age-related declined of skeletal muscles as the number of muscles fibers decrease thus making response time and reflexes slower, the speed of brain signals slows down and the enzymes and proteins responsible in aiding in the repair of the muscles slow down. However, it is very hard to distinguish the difference between normal age-rates decline in the skeletal muscles and decline due to a sedentary lifestyle along with circulatory and respiratory changes. The loss of muscle mass can be directly attributed to be caused by a loss of muscle fibers and a reduction of fibers in the cross-sectional area.
The loss of muscles speed occurs because the contractions in the motor end plate reduce along with the sarcolemma becoming smoother. In turn, the ability of a muscle cell to be stimulated by the motor neuron decreases. Furthermore, changes in the sarcolemma change the speed and strength of a contraction and reduce the speed of which how quickly the body is able to recover from one contraction to the next. This means that there is a decrease in overall strength as well as a decrease reaction time as reflexes are much slower. Further contributing to this are the changes in the release of calcium as well as the retrieval by the sarcoplasmic reticulum. Therefore, the decreased amount of sarcomeres present in an elder cause for their muscles to become shorter, and stiffer thus reduces their overall strength, flexibility, and elasticity.
With aging, women experience natural wear and tear on muscles and joints. One cause of aches and pains is arthritis, or inflammation of the joints.
There are over a hundred different forms of arthritis, some hereditary, some autoimmune, and some aggravated by other conditions.
Osteoarthritis, also called degenerative joint disease, is the most common type. It occurs when the cartilage that protects our joints loses its elasticity and wears away. Osteoarthritis can be related to repetitive stress from work, walking, or prior injury to bones and joints. Immune-mediated arthritis diseases (sometimes called inflammatory arthritis) such as rheumatoid arthritis affect a much smaller segment of the population than osteoarthritis and may lead to total body fatigue, stiffness, and swelling.
While arthritis is often diagnosed around the time of menopause, it is not clear if the hormone changes of menopause contribute to it.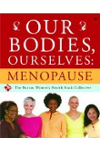 More About this Book
Our Bodies, Ourselves: Menopause
FROM THE EDITORS OF THE CLASSIC "BIBLE OF WOMEN'S HEALTH," A TRUSTWORTHY, UP-TO-DATE GUIDE TO HELP EVERY WOMAN NAVIGATE THE MENOPAUSE TRANSITION For decades, millions of women have relied on Our...