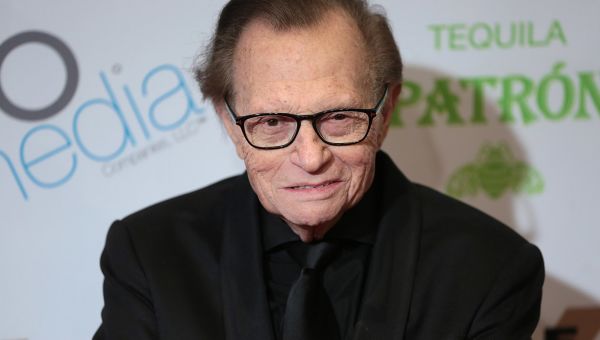 The legendary broadcaster was hospitalized in Los Angeles in late December.
Larry King, enduring talk show host and master interviewer, died in Los Angeles on Saturday, January 23. He was 87.
"With profound sadness, Ora Media announces the death of our co-founder, host, and friend Larry King," read a statement posted on his Twitter account. "For 63 years and across the platforms of radio, television and digital media, Larry's many thousands of interviews, awards, and global acclaim stand as a testament to his unique and lasting talent as a broadcaster."
King was admitted to Cedars-Sinai Medical Center in late December with symptoms of COVID-19. The broadcaster had a long history of health problems, including type 2 diabetes, multiple heart attacks and bouts with both lung and prostate cancer. Prior to his COVID-19 hospitalization, King was on the mend following a March 2019 stroke that reportedly left him in a coma for weeks.
Broadcasting career and major accomplishments
Larry King was born Lawrence Harvey Zeiger in Brooklyn, New York in 1933. After moving to Florida in his early twenties, he worked throughout the 1950s and 60s as a radio DJ, newspaper journalist and emcee of a Miami-based TV talk show.
In 1978, King rose to national prominence as host of the radio program The Larry King Show, which continued until 1994. But it was Larry King Live, his CNN talk show that started in 1985, that cemented his fame at home and abroad. More than 6,000 episodes were aired before the series' end in 2010.
Between 2012 and 2020, King hosted Larry King Now on Ora TV, Hulu and RT America. In 2013, he launched an additional show, PoliticKING with Larry King, on the same networks.
Over the course of his long career, King interviewed more than 50,000 celebrities, politicians and other newsmakers, often with little preparation beforehand. Among notable figures were Dr. Martin Luther King Jr., Eleanor Roosevelt, Mikhail Gorbachev, Oprah Winfrey, Marlon Brando, Paul McCartney and every U.S. president since Gerald Ford. In 1992, Texas billionaire Ross Perot even announced his presidential run on Larry King Live.
In addition to his hosting work, King played himself in numerous TV shows over the decades—including Frasier, Law and Order and 30 Rock—and in more than 20 movies, such as Ghostbusters and Primary Colors. He was involved in several charities, and following a 1987 quintuple bypass heart surgery, established the Larry King Cardiac Foundation to help people without insurance receive medical care.
Famously, King was married eight times, to seven different women. He is survived by three children, Cannon, Chance, and Larry King Jr. Two of his adult children, Andy and Chaia, passed away within a month of each other in 2020.
Sources:
Julie Goldstein and Dennis Romero. "Larry King hospitalized with Covid-19." NBCNews.com. January 4, 2021.
Dakin Andone and Brad Parks. "Larry King has been hospitalized with Covid-19." CNN.com. January 2, 2021.
Rasha Ali. "Larry King has 'less of a fear of dying now' after near-fatal stroke, talks recent divorce." USA Today. February 5, 2020.
IMDB. "Larry King." 2021. Accessed January 5, 2021
CNN.com. "Anchors & Reporters: Larry King." 2021. Accessed January 5, 2021.
Britannica. "Larry King: American talk-show host." 2021. Accessed January 5, 2021.
Anika Reed. "Larry King in hospital, recovering from heart procedure." USA Today. April 29, 2019.
Larry King Cardiac Foundation. "About Us." 2021. Accessed January 5, 2021.
Georgia Slater. "Larry King Hospitalized in L.A. with COVID-19: Reports." People. January 2, 2021.
Twitter.com. @kingsthings (Larry King Official Page). Accessed January 23, 2021.