Eating is often an important social occasion and it's always more enjoyable to eat if you can share a meal. As people age, their diets often become more limited and many seniors lose an interest in eating. Having meals can become a chore rather than an occasion. Researchers at the University of Maryland proved that seniors with more social contacts ate better. Their diets were healthier, contained more nutritious calories, and included more fruits and vegetables compared with seniors with few social contacts. So whether you're able to eat with others or need to eat alone, having a strong network of friends and acquaintances results in healthier eating habits in the elderly.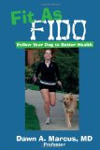 More About this Book
Fit As Fido: Follow Your Dog to Better Health
Let your dog teach you to live a happier, healthier, and more fulfilling life! Companionship with your pet can be used as a means and a motivator to increase your own physical and mental fitness....
Continue Learning about Aging & Healthy Eating