Eat a balanced diet that is low in calories and high in nutrients. Eating a diverse diet that includes four or five servings of fruit a day, four or five servings of vegetables a day, and only whole grains will help keep you feeling young. Eat fish three times a week and do not eat red meat more than once a week.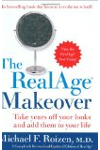 Your change to a newer, healthier life starts in your refrigerator. The first thing you need in there are plenty of foods rich in antioxidants.

But what are antioxidants? Why are they so good at fighting aging?

To explain, Dr. Mehmet Oz, Vice-Chair and Professor of Surgery at Columbia University, compares apples to apples. Let's say one half of an apple was sprinkled with lemon juice, and the other was not. While the lemony half remains new and crisp-looking, the untreated half becomes brown and shriveled because of exposure to oxygen, also called oxidation. "The same thing happens to our skin, to our heart, to our eyes," Dr. Oz says. "All of our bodies need to have the antioxidants."

As the name implies, antioxidants do to your body what the lemon juice does to an apple -- help prevent the damage caused by oxygen exposure.

Continue Learning about Aging & Healthy Eating