A decrease in coordination, balance, fine-motor skills, and visual-spatial orientation, as well as an increase in motor response time and altered proprioception (the sense of orientation of one's limbs in space), are all age-related changes in the neuromuscular system. Regular exercise seems to slow the rate of decline in many of these pathways.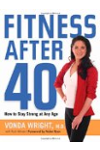 More About this Book
Fitness After 40: How to Stay Strong at Any Age
It's one of the undeniable facts of life. After we reach a certain age, our bodies change. No matter how fit we may have been at 20, we're very different people after 40. But growing older doesn't...
Continue Learning about Aging, Bone & Joint Conditions