A decrease in coordination, balance, fine-motor skills, and visual-spatial orientation, as well as an increase in motor response time and altered proprioception (the sense of orientation of one's limbs in space), are all age-related changes in the neuromuscular system. Regular exercise seems to slow the rate of decline in many of these pathways.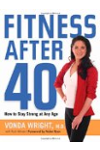 More About this Book
Fitness After 40: How to Stay Strong at Any Age
It's one of the undeniable facts of life. After we reach a certain age, our bodies change. No matter how fit we may have been at 20, we're very different people after 40. But growing older doesn't...
Continue Learning about Aging, Bone & Joint Conditions

As we get older, all those sports injuries take their toll on bones and joints in the form of osteoarthritis. The stress of being overweight also contributes to joint degeneration, as does the aging process. If you've reached midd...
le age with joint aches and pains, you're not alone. Medication and exercise can help osteoarthritis, as can losing weight.
More