Our bones are made of a dense outer cortex and a spongy inner matrix of boney arches and bridges called trabeculae. When we age, we lose a number of these trabeculae. After age 40, women lose bone twice as fast as men at a range of 1.5 -- 2 percent per year. This rate increases to 3 percent per year after menopause. Loss of bone density can lead to frailty and disability because of fractures.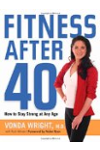 More About this Book
Fitness After 40: How to Stay Strong at Any Age
It's one of the undeniable facts of life. After we reach a certain age, our bodies change. No matter how fit we may have been at 20, we're very different people after 40. But growing older doesn't...
Chances are, you've been brought up to believe that the 206 bones in your skeletal system are exactly like 2-by-4s-solid and generally unchanging. They grow in size as we change from kids to adults, but besides that, they're static structures, right?
Not exactly. The molecular elements in each of our bones right now are actually different than the ones that held you up even a decade ago. The individual molecules in your bones rotate in response to what your bones need-and how well you nourish them.
Just as you can take control of how efficient your heart pumps or how thick your waist becomes, you can also take control of the way your bones age.
YOU: The Owner's Manual, Updated and Expanded Edition: An Insider's Guide to the Body that Will Make You Healthier and Younger
Continue Learning about Aging, Bone & Joint Conditions