Our bones are made of a dense outer cortex and a spongy inner matrix of boney arches and bridges called trabeculae. When we age, we lose a number of these trabeculae. After age 40, women lose bone twice as fast as men at a range of 1.5 -- 2 percent per year. This rate increases to 3 percent per year after menopause. Loss of bone density can lead to frailty and disability because of fractures.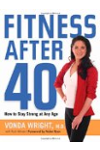 More About this Book
Fitness After 40: How to Stay Strong at Any Age
It's one of the undeniable facts of life. After we reach a certain age, our bodies change. No matter how fit we may have been at 20, we're very different people after 40. But growing older doesn't...
Continue Learning about Aging, Bone & Joint Conditions