Irongeezers range from baby boomers to ultraseniors, some of whom are in their 80s and 90s. Far from being cranky couch potatoes, irongeezers have a passion for physical activity and involvement in a healthy lifestyle. They have a dash of "iron" for strength of mind and body to maintain hale and hardy lifestyles amid an ever increasing, slothful, unfit population.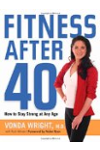 More About this Book
Fitness After 40: How to Stay Strong at Any Age
It's one of the undeniable facts of life. After we reach a certain age, our bodies change. No matter how fit we may have been at 20, we're very different people after 40. But growing older doesn't...
Continue Learning about Aging & Fitness