If you are fit and strong, you can have better balance than much younger sedentary people. There are many ways you can boost your balance.
• Stay strong. Strengthening your buttocks, quadriceps, and hamstrings go a long way in improving balance.
• Join a class. Tai chi, yoga, and pilates all require slow deliberate movements, trunk rotation, and one-legged stances.
• Be productive in your down time. Between sets of strength exercises, while brushing your teeth in the morning, or while waiting at a street corner for the light to change, try standing on one leg and balancing.
• Work balance exercises into your daily routine. You don't need any special equipment -- just your body. For best results, do some or all of these exercises every day. It takes four to 12 weeks of work to see a result. (Before beginning all these exercises, first engage your core muscles.)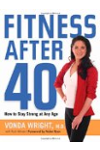 More About this Book
Fitness After 40: How to Stay Strong at Any Age
It's one of the undeniable facts of life. After we reach a certain age, our bodies change. No matter how fit we may have been at 20, we're very different people after 40. But growing older doesn't...
A well-designed balance training program is designed to ensure optimal efficiency of the body. Balance training programs must be systematic and progressive, such as those described by the National Academy of Sports Medicine.
Balance-stabilization exercises are designed improve joint stability. Balance-strength exercises, improve efficiency of the entire body by adding strength. Balance-power exercises improve high levels of eccentric strength, which give muscles the ability to respond and prevent falls in the case of sudden perturbation.
Continue Learning about Aging & Fitness