Leg stretching exercises include:
Lower extremity extensions -- There are two different stretch exercises. First is done with the back heel remaining fixed to the ground while you stretch your calf. Next, release the heel and provide more stretch for the upper leg muscles. The latter requires caution, with more strength required the lower you go. Only go to a level that is comfortable for you, and be careful not to strain or overstress your knee.
Toe touches -- This stretch needs to be geared to individual ability. It is not necessary to actually touch your toes -- just lean forward in the direction of your toes while maintaining your balance. The movement needs to be smooth; hold the lowest position for a few seconds before slowly straightening up. This stretch is usually best done as a cool down exercise.
Split (very advanced) -- Many people cannot safely get to the point where their hands can reach the ground in this stretch. Unless you have some support from a rail or other sturdy fixture, you might want to skip this stretch until your flexibility allows you to do it easily and safely. This is generally an exercise for cooling down rather than one done at the beginning of your exercise routine. Consider doing this next to a fixed bar or other support to reduce risk of injury.
Partial squats -- Stand with your feet shoulder-width apart, and then flex your knees and extend your arms straight out in front of your body. Keeping your heels on the ground, try to squat down while maintaining balance, but go no further than the level at which your upper legs are parallel to the ground. Going beyond this point is too hard on the knees. From a standing position with feet shoulder-width apart, squat down until thighs are about parallel to the ground.
Back leg kicks -- Put your hands and knees on the ground. Then kick one leg back and extend it as far as possible while extending the opposite arm forward. Note that your back should remain straight throughout this exercise. Continue alternating between left and right for 20 repetitions.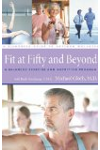 Continue Learning about Aging & Fitness