No matter if your a women or a man the difficulty to get fit get harder as we age. So if you are one of those many people just starting out in a fitness routine things will be a little bit harder to achieve than when you were a teenager or even in your twenties. When we are inactive through life we start to lose muscle, bone density and our metabolism starts to slow. So later in life it takes a little bit longer to achieve our goals than if we were younger. However don't let your age deter you from working out because no matter what age you are you can achieve anything.
The fact is that if women wait to focus on fitness until they approach their 50s, they add another degree of difficulty to the process: menopause! Estrogen is a so-called catabolic hormone, which means that one of its functions is to help us burn and use energy stores. As estrogen walks out the door as women enter menopause, they are left with an intact storage function and less burning function. It takes less energy for daily maintenance and therefore less food intake. Unless women burn more energy through smart activity, they are not likely to make progress on getting control of their bodies.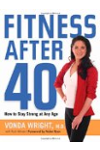 More About this Book
Fitness After 40: How to Stay Strong at Any Age
It's one of the undeniable facts of life. After we reach a certain age, our bodies change. No matter how fit we may have been at 20, we're very different people after 40. But growing older doesn't...
Continue Learning about Aging & Fitness