Osteoarthritis can affect almost any joint, but is most typical in the joints that bear weight over the years, such as the knees, hips and lower back. The pain and stiffness usually come on gradually over months or even years. But in many cases, the joints primarily affected are those that allow us to lead active lives, such as depending on the back, hips and knees for walking; the back, shoulders and hands for lifting; or the back, hips, knees and hands for working.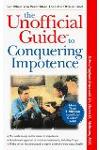 More About this Book
Unofficial Guide to Impotence
The Unofficial Guide to Conquering Impotence delivers the inside scoop on impotence: the truth about Viagra, what treatments really work, and how lifestyle changes can aid in conquering...
Continue Learning about Affects of Osteoarthritis on the Body