Osteoarthritis in the hands occurs when cartilage, or the protective slippery cushion of tissue that lines the many joints in your hands, becomes damaged and unable to its job. Joints in the hands can become swollen and painful to move. This can occur from trauma or repetitive stress to the joint. Over time, the joint cartilage breaks down to the point of bone-on-bone contact. This can be very painful and can lead to disability.
The contents of this website are for informational purposes only and are not intended to be a substitute for professional medical advice, diagnosis, or treatment. Nor does the contents of this website constitute the establishment of a physician patient or therapeutic relationship. Always seek the advice of your physician or other qualified health provider with any questions you may have regarding a medical condition.
Continue Learning about Affects of Osteoarthritis on the Body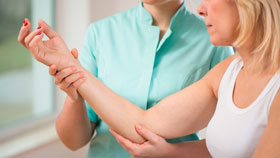 The most common complications of osteoarthritis (OA) are joint pain and stiffness, which can interfere with daily activities. Osteoarthritis can affect almost any joint, but is most typical in the joints that bear weight over the ...
years, such as the knees, hips and lower back. In most cases, OA develops slowly over time, but it can worsen rapidly in severe cases. Because it may make it hard to move around and exercise, OA can also lead to weight gain.
More