Osteoarthritis is a major cause of disability, especially among the elderly. More than a third of people age 65 and older have osteoarthritis.

Osteoarthritis or OA occurs when cartilage in the joints wears away, causing bones to rub against each other. This leads to debilitating pain, stiffness and reduced movement, and can interfere with a person's ability to work and perform normal daily activities such as climbing stairs and climbing in and out of the bathtub.
Continue Learning about Affects of Osteoarthritis on the Body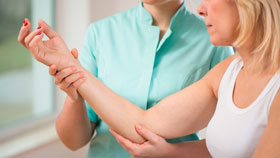 The most common complications of osteoarthritis (OA) are joint pain and stiffness, which can interfere with daily activities. Osteoarthritis can affect almost any joint, but is most typical in the joints that bear weight over the ...
years, such as the knees, hips and lower back. In most cases, OA develops slowly over time, but it can worsen rapidly in severe cases. Because it may make it hard to move around and exercise, OA can also lead to weight gain.
More