Improve your child's self-efficacy
For a child with attention deficit hyperactivity disorder (ADHD), his self-efficacy reflects specific beliefs about his ability to make changes in his life. Self-efficacy is a component of self-esteem. Your child's sense of self-efficacy is the set of beliefs and attitudes he has about his power to make his dreams come true. If your child has strong self-efficacy it means that he believes that if he wants to do better in school, he can work harder and do better. It means that if he wants to get along more smoothly with other students, he knows he can try harder, learn social skills, and make friends. The opposite of self-efficacy is learned helplessness, in which a person learns that his efforts won't achieve the intended results. If your child believes that no matter how hard he tries he won't do better in school, he will simply stop trying. If he believes that no matter what he does he will never be popular with other students, he will act out aggressively toward others. The most important belief to instill in your child, after respecting himself and others, is that he can create and change his reality.
Children with ADHD are at risk for giving up, thereby making their symptoms worse and reducing their self-efficacy. Researchers have shown that children with ADHD are less persistent in academic tasks than children who do not have this diagnosis, in part because they begin to believe that they do not have what it takes to succeed. The diagnosis of ADHD creates or exacerbates some of its characteristic symptoms by lowering self-efficacy.
Improve your child's self-esteem
Central to transforming your child's problems into strengths is that your child develop a realistic and positive self-esteem. Self-esteem is the fundamental building block in transforming your child's problems into strengths. The main way to enhance your child's self-esteem if he has ADHD is to reframe the diagnosis of ADHD as a strength. Children with a diagnosis of ADHD have a harder time staying focused for long periods of time, have less motivation to try harder because they think they are handicapped, and are likely to underestimate how much persistent effort and hard work is necessary for success.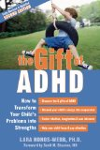 Continue Learning about ADHD