The greatest gift you can give a child with attention deficit hyperactivity disorder (ADHD) -- or any child for that matter -- is the support they need to become an emotional genius. An ADHD child needs it more than a "normal" child, because she needs help rebounding from the disappointments that come with being different from others. An ADHD child needs to gain emotional intelligence -- the ability to know what she is feeling and to use the feeling as information for guiding behavior -- because in some ways she is already living in the sea of intense emotions, and learning to swim is an essential skill just for navigating her sensitivity.

In addition to offering a greater sense of direction, emotional intelligence will transform bad behavior and many ADHD symptoms into strengths for your child. She will learn how to identify and validate her anger rather than act it out in bad behavior or self-handicapping (giving up so as not to face failure). When your child can recognize and label the full range of emotions coursing through her heart and mind, she will be able to focus her attention when appropriate rather than being driven by her emotions. Intense emotions can be like jet fuel -- propelling your child to a constant state of hyperactivity. As your child learns to manage her emotional life, severe symptoms will be translated into emotional cues she can use for guidance.

Some of the basic skills of emotional intelligence include feeling mad without lashing out or blaming others and learning to be assertive rather than passive or aggressive. Emotional intelligence means reaching for help when you feel sad and talking through worries with others rather than obsessing alone. Those who lack emotional intelligence may not even know what they are feeling but just feel driven by unknown forces. Some people who lack emotional intelligence know what they feel but express their feelings destructively -- either wounding others with words or with actual physical aggression. A major risk of being unable to feel or express emotions skillfully is seeking strategies to numb out feelings, things such as drugs or alcohol or dangerous activities involving spending, gambling, or thrill seeking.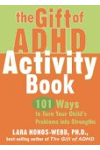 Continue Learning about ADHD